In some cases, users will need to have additional roles associated with their profile. Examples of this include a Branch Manager that also functions as an Escrow Officer or Loan Officer, or a broker that also functions as an agent, or an industry user that will also be a buyer or seller on a transaction. Title | Pipe™ accommodates this by allowing users to associate multiple roles with their profile. Detailed below are the steps to add an additional role to your profile:
Log in to Title | Pipe™

In the upper right corner click on the user icon (this will either be the image that you have loaded into your profile or a blue circle with your First and Last Initial

From the drop down options, select "Profile"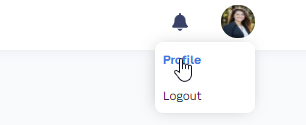 Go to the "Role Profiles" section and select "Update Profile" and edit your role details as appropriate

You can delete an existing role by selecting the "Delete this role" link below the role you wish to delete

If you wish to add an additional role, select the "+Add Additional Role Profile" link and select the role from the drop down menu you wish to add. Depending upon the role you select you may be given the option to include relevant professional licensing information that is associated with this role

Select "Add Role" to complete the process of adding the role to you profile