In order to update your profile image, please follow the following steps:
Log in to Title | Pipe™

In the upper right corner click on the user icon (this will either be the image that you have loaded into your profile or a blue circle with your First and Last Initial

From the drop down options, select "Profile"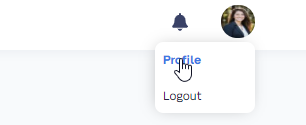 Scroll to the bottom of the profile page. If you are adding an profile picture for the first time, you will see at blue circle with the "+ Upload" and you can drag/drop in your profile image. If you have an existing photo you want to change, simply drag the new image over the original.

Select "Save" at the bottom of your profile and your profile image will be saved and your profile is updated